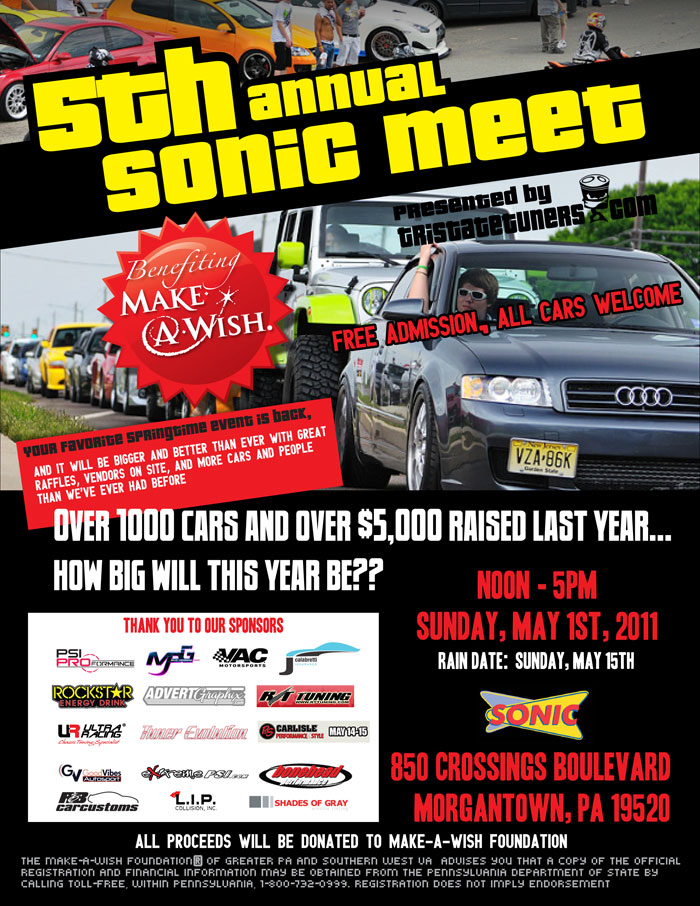 Everyone's favorite springtime event is back for the 5th year in a row. Come out to Sonic Drive-In in Morgantown, PA on May 1st from noon to 5pm for The 5th Annual Sonic Meet. There will be a huge variety of cars, a ton of great raffles, vendors on site, and it is all helping to raise money for Make-A-Wish.
Last year was an amazing turnout with over 1,000 cars in attendance and over $5,000 donated. We can't wait to do it all again this year, trying to top last year's awesome turnout.
RSVP to the event and invite your friends on Facebook
Please RSVP to the event on Facebook and then invite your friends by clicking 'share' on Facebook to post the event on your wall or message them directly.
You can also "Like" TST's Facebook Fan Page too while you're there!
All proceeds from the event are being donated to Make A Wish, please take a minute to visit their site here: www.makeawish.com
There will be many worthwhile and fun ways to donate at the event so please keep that in mind so we can raise as much money as possible.
How to Donate
*
Donate just by buying food at Sonic during the meet:
A percentage of all sales from Sonic Drive-In during the meet will be donated directly to Make-A-Wish
*
Donate by buying TST Merchandise during the meet:
25% of all TST Merchandise sales at the event will be donated directly to Make-A-Wish
*
Donate by buying raffle tickets for a chance to win great prizes:
Enter to win some incredible prizes we've managed to collect... we will announce these prizes soon so you can look forward to them at the meet. All proceeds from raffle ticket sales will be donated directly to Make-A-Wish
*Donate by being on the lookout for the donation jars around the event to just drop a couple bucks in:
it all adds up, especially with the number of people who will be at the event so please consider dropping a dollar or five into the donation jar!
Event Sponsors and Donors Wanted!
We're still looking for sponsors for the event to make a donation and/or provide items to raffle off so if anyone reading this is interested or knows someone who might be, please email TheSonicMeet@TriStateTuners.com for more info. All proceeds are going to Make A Wish, and this is a great opportunity to give back to the community in a fun way!
We hope everyone can make it, but for those who aren't able to you can still donate by mailing a check or via Paypal at TheSonicMeet@TriStateTuners.com
Caravans
Many very large caravans are organized for this event each year, so be on the look out for one that originates in your area to join in on the fun.
If you have organized a caravan and would like it added to this list, please post in the thread with a link to your caravan thread for it to be added.
King of Prussia, PA Caravan (KOP Mall)
Bensalem, PA Caravan (Neshaminy Mall)
Montgomeryville, PA Caravan (Montgomery Mall)
Maple Shade, NJ Caravan (South Jersey)
Allentown, PA Caravan (Lehigh Valley)
Parking
We are working out parking details and will post more info about this as the meet gets closer. Check back for more info!
Please contact me at TheSonicMeet@TriStateTuners.com if you have any questions, suggestions, or interest in getting involved.
Looking forward to it, and hoping everyone comes out to enjoy the day with us.
Am I the only one going to this? We need more mopar!
Sublime1304 wrote:Am I the only one going to this? We need more mopar!
I fixed your posted links in the first post.
Can't have the quotation "" marks within the path.
[URL="http://www.tristatetuners.com/forum/showthread.php?t=111058"]King of Prussia, PA Caravan (KOP Mall)[/URL]
With the quotation marks removed link is corrected: Below
King of Prussia, PA Caravan (KOP Mall)
This show is pretty early in the year, which presents a few hurdles, weather, road conditions (gravel & pot holes), cars ready, etc.
For me I won't get the Hurst out until the middle of May and that's only if I'm going to Mopars @ E-Town, which I'm not doing this year.

_________________
** 2009 Hurst SRT8 Hemi Challenger, Series 5, Car No. 4 of 50 Built. **
** 1969 Nova SS: Best 60Ft./ET/Speed - 1.21 Sec / 9.20 Sec. / 142mph **



Posts

: 311


Join date

: 2010-05-30


Location

: Eastern Pennsylvania



Can't make it man, I have a DJ gig that day. Gotta make that extra money when I can!

For anyone possibly interested, this is a great show! However, it's known to attract a younger, less mature crowd usually packed with import tuners and your typical Mustang and Camaro crowds. It's more of a huge meet to raise money for a good cause. My opinion, just donate money if you feel the urge to help this great cause, that way you save yourself the gas, time, and frustration.



Posts

: 508


Join date

: 2011-02-21


Age

: 31


Location

: Philadelphia



If the weathers nice I may take a ride up.



Posts

: 63


Join date

: 2011-02-21


Age

: 58


Location

: Harleysville, Pa.



I would encourage anyone who wants to go to get there around 11 if you want a good spot

---
Permissions in this forum:
You
cannot
reply to topics in this forum